You guys, today's post was put together by my very lovely friend, Michaell from Foodscape! Michaell is a vegan food blogger and she really knows her stuff. You can read more about her at the bottom of this post. We met at a Blogger Babes event and bonded over our love of blogging (natch!), design & good food. Seeing as it's officially pumpkin season she's sharing her recipe for a homemade, as-authentic-as-it-gets, Pumpkin Spice Latte with us today! Enjoy!
Hi all! I am so excited to be posting for So Fresh and So Chic today. I have been obsessed with her 9 Perfectly Effortless Fall Outfits post… especially the Happily Grey outfit. I only wish those Mango pinstripe pants weren't sold out. Probably for the best though since I want to buy everything from every post Naushin puts together! 🙂
Today I am sharing with you one of my favorite holiday drinks. No other winter drink gets my love and devotion like this one, because it has veggies in it. It's almost like getting the benefits of a smoothie. Almost.
I admit I love a good latte, but I prefer making it myself these days. It has twice the charm as a coffee house latte and half the sugar. Have you seen what's in your latte? It's better than it used to be since Starbucks now uses real pumpkin and took out the condensed milk and high fructose corn syrup, but it's still very processed and full of processed sugar your body doesn't know what to do with other than put it on your thighs (no thank you!).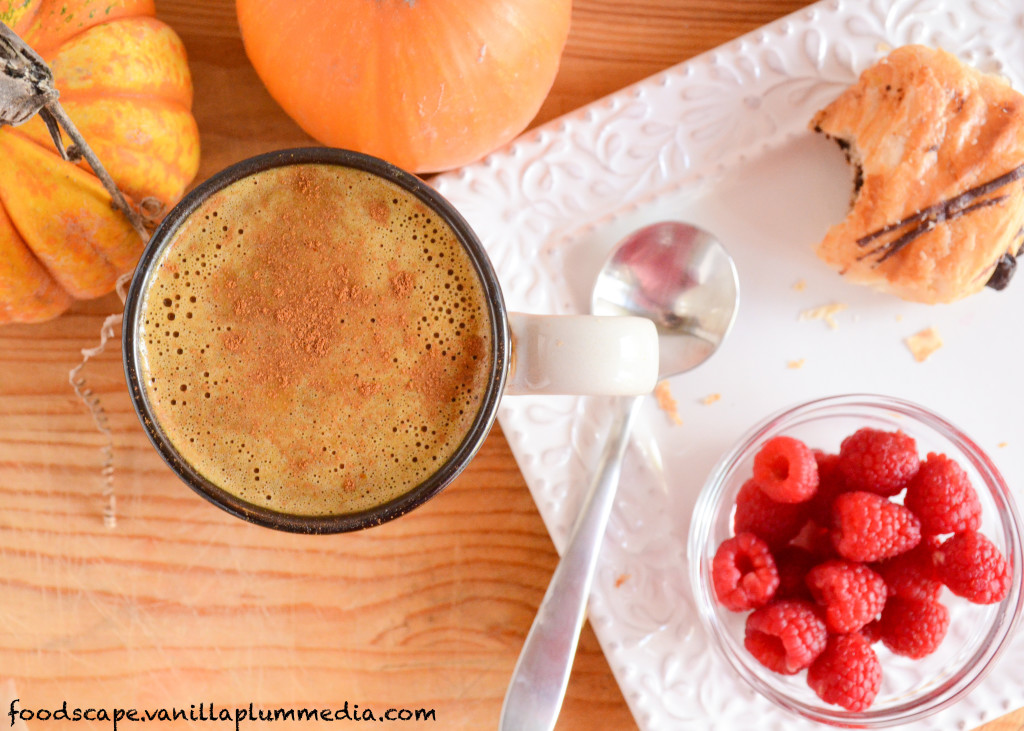 The easiest way to know what's in your food is to make it yourself. Best part is this Pumpkin Spice Latte is full of nutrients and can be made in the same time that it takes you to make a pot of coffee!
Once we're done making this latte we'll have vitamin A, protein, potassium, magnesium, iron, a bit of fiber, and some spices that have some great nutrients.
Something I love about adding pumpkin spice into everything is the cinnamon. Did you know that cinnamon is considered an anti-inflammatory? It also can help with type 2 diabetes, stabilizing blood sugar, reducing triglycerides and cardiovascular disease. Cinnamon is quite a fighter too! It's anti-bacterial, anti-fungal, anti-viral and naturally sweet. YUM.
You should know that I always create my recipes to be processed free, so there may be a few ingredients you aren't familiar with. Particularly, rapunzel sugar, otherwise known as Rapadura. Rapunzel sugar is cane sugar. You can replace any cane sugar you want here 1:1. The reason I use Rapunzel sugar is it is the only cane sugar I'm aware of that still has nutrition in it because it is not separated from the molasses and is still a whole food. It still has 11% iron in it. Can you say that about your normal white sugar? Also, it does not contain bone char like white sugar does. Yes, it's exactly what it sounds like. I wrote an article about sugar if you want more processed free options.
Until next time, enjoy this delicious recipe for a real pumpkin spice latte.
YIELD: 16 oz. or 2 cups
INGREDIENTS
1 cup almond milk (or whatever milk you love with espresso/coffee)
6 oz. water*
4 tsp instant espresso*
3 tbsp rapunzel sugar (see notes for replacements)
2 tbsp coconut sugar (see notes for replacements)
1/4 cup + 1 tbsp pumpkin puree (not pumpkin pie filling)
1 tbsp vanilla extract
1 tsp pumpkin spice (see notes for pumpkin spice recipe)
TOPPINGS
Cinnamon
1/4 cup coconut cream OR Whipped Cream
INSTRUCTIONS
1. In a sauce pan**, add all of the ingredients (not the topping ingredients) and cook on medium heat.
2. Stir ingredients until everything is dissolved. I choose not to bring everything to a boil to preserve the most nutrition, but you can if you prefer a more "syrupy" texture like Starbucks.
IF MAKING FROTH:
1. In a mason jar (or blender), add the 1/4 cup coconut cream and 1/4 cup of the espresso mix. 2. Shake vigorously (with the lid on) until frothy.
3. Evenly divide the espresso into 2 cups and pour the mason jar ingredients on top of each cup, sprinkle cinnamon on top and serve!
4. Enjoy!
IF SERVING WITH WHIPPED CREAM:
1. Pour the espresso evenly into 2 cups
2. Put whipped cream on top, sprinkle cinnamon on top and serve!
3. Enjoy!
PUMPKIN SYRUP TOPPING:
1. 1 tbsp pumpkin puree
2. 1 tbsp syrup
3. Put it in a squeeze bottle, shake and use!
NOTES
Rapunzel sugar: You can use any cane sugar you have in the pantry, start with 2 tbsp if you aren't using rapunzel sugar to test sweetness. Rapunzel sugar is not as sweet in my opinion.
Coconut Sugar: Adds a brown sugar flavor. You can replace with brown sugar, maple syrup, or more cane sugar to taste. If you are beginning your processed free journey, consider coconut sugar worth the trip to the store.
Pumpkin Spice: I use Martha Stewart's recipe, but can't find it online anymore. Try this one for a DIY Pumpkin Spice recipe.
*You can use 4 shots of espresso instead, just omit the water & instant espresso
**Microwaving will work, however, it will destroy much of the nutrition.
ABOUT MICHAELL
Connect with her on: Pinterest|Twitter|Facebook|Instagram|Google+|Bloglovin
Michaell is the recipe creator and photographer behind the blog, Foodscape. "My challenge? How to take my favorite recipes and re-invent them using whole-food, processed-free, gluten-free and vegan ingredients…and sneaking extra fruits and veggies into every recipe. Too tough? Not for this girl!"
*This post contains affiliate links and Foodscape will receive a small commission if you choose to purchase an item by clicking on these links. Thank you!